Financial Planning
Examining Your Potential Costs and Revenues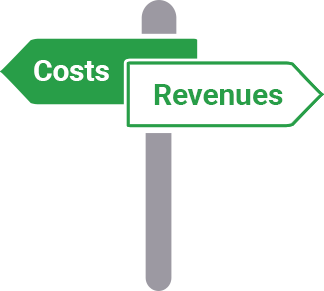 Our objective, in financial planning, is to provide a means to determine the potential financial returns from adding an infusion therapy practice to an existing medical practice. It is deliberately not our intention to provide a basis for modeling an entire practice as, through considerable investment in people and facilities, you have likely already hurdled the cost of establishing your practice. Accordingly, capital and startup costs are limited to the incremental costs of infusion therapy equipment and other startup costs, plus the marginal revenues and costs associated with just an infusion therapy service offering.
By entering your assumptions for these values into the Microsoft Excel spreadsheet linked below, it is our expectation that you will be able to discover and visualize: your costs, profits, and Return on Investment (ROI) from expanding your patient services to include infusions. Ultimately, our goal is to ensure your financial understanding and confidence in delivering infusion services, should you make the decision to expand your practice in this manner, and having conducted the appropriate legwork such that all necessary regulations are followed.
The tables provided in the Excel link enable you to download and develop a high-level financial plan for your infusion services using prices you have negotiated with payers, as well as costs that may be anticipated when administering IV steroids and/or IV therapies for primary immunodeficiencies and asthma.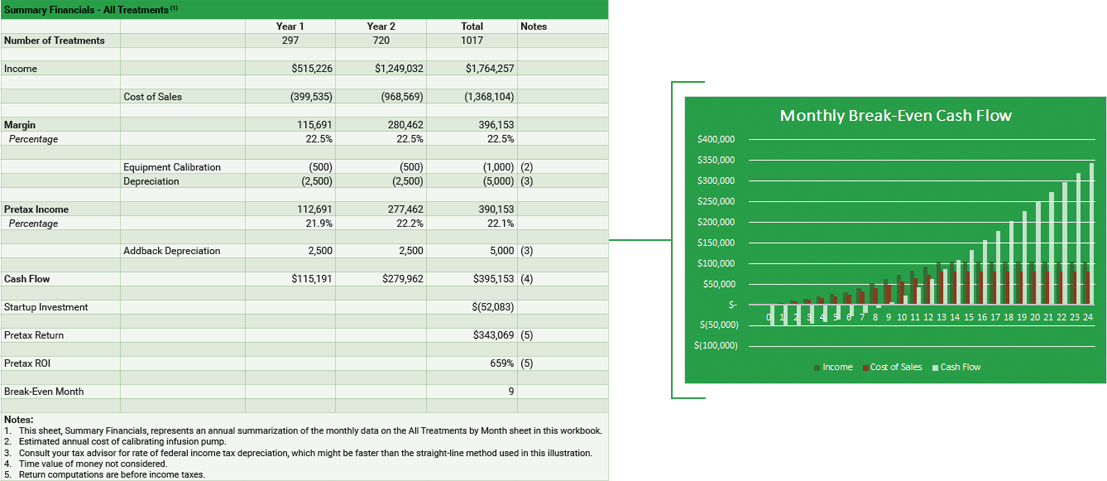 There are several tabs in the worksheet linked above. All of these worksheets can help you customize your financial plan to match your real-world cash flow (revenue minus expenses).
Other than the first worksheet entitled Summary Financials and a later worksheet entitled All Treatments by Month, each worksheet in the workbook contains Input cells, colored in light orange, that store planning assumptions. All worksheets in the workbook are interactive, which means a change in any assumption will update all related cell values in the workbook. An initial set of assumptions has been entered for illustration purposes. As you change each assumption to reflect your circumstances, the effect of your change will flow through the two-year projection of expected financial results on the Summary Financials worksheet. The Summary Financials worksheet also includes a graphical representation of monthly cash flow, including a projected break-even month and ROI calculation. Any earnings past the break-even point represents cash returned to you that is greater than your Startup Investment.
Other worksheets in the workbook underlying the Summary Financials include:
Practice Pearl: No two payers use the same coding and billing procedures for infusions, so it is up to you, the clinician, to determine which codes and billing procedures are best to use for your practice. Not only that, NEGOTIATE directly with payers to maximize the amount of reimbursement you will receive for in-office infusions.